Owning a recruitment franchise is more affordable than you may think
Owning a business doesn't have to break the bank. If you're looking for an affordable business to own in a fast-paced, dynamic industry, Essential Pros recruitment franchise should be at the top of your list.
With the total cost to invest beginning at $136,350, Essential Pros is one of the most affordable businesses in the $137 billion staffing industry. The reason for the low cost of entry is simple: Travis Powell, CEO and Founder of Essential Pros, left a lucrative career in the banking industry to pursue a new career as the owner of a staffing franchise. As an entrepreneur, Powell knows that people invest real money, time and energy to start businesses, and keeping costs low is an essential part of helping a business succeed.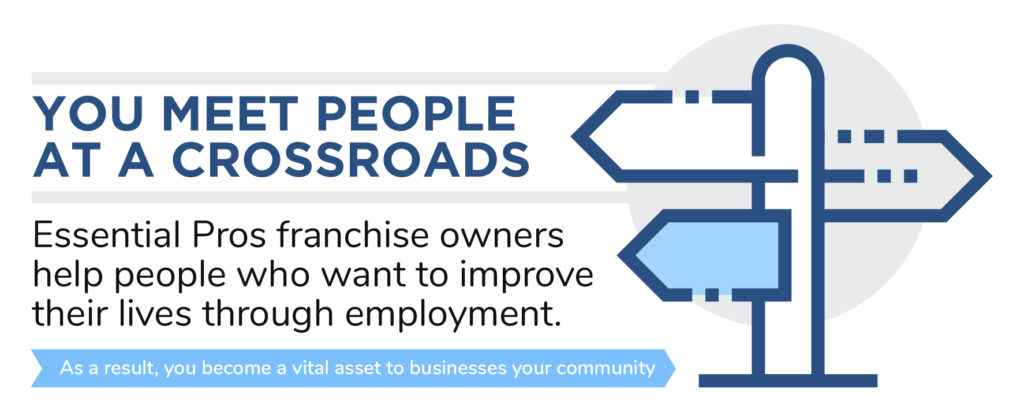 "I started Essential Pros in 2007 while approaching a bad economy," Powell says. "I wanted to get out of the banking industry and do something more meaningful with my life. The staffing industry gave me the chance to help people seeking to improve their lives, help businesses with urgent hiring needs, and play a meaningful role in my community. Now that we've proven the success of the Essential Pros business model can be replicable, I want to help as many entrepreneurs enter the staffing industry as I can. This is why the barriers to entry are low – because life isn't about money, life is about doing something that you're passionate about, day in and day out.
"In our experience, the average cost to open an Essential Pros business has been less than $150,000 historically," Powell continues. "For a first-time entrepreneur, this is an extremely affordable opportunity, and a chance to own a sales-driven business with unlimited profit potential."
What Will It Cost to Open an Essential Pros Staffing Franchise?
The total investment to open a new Essential Pros recruitment franchise ranges from $136,350 – $221,500, according to our most recent Franchise Disclosure Document. The reason why we provide a range is because every market is different, and important items such as rent, payroll, signage and more will vary from market to market.
Here are the bigger budget items necessary to open:
Initial Franchise Fee: $30,000
Marketing Introduction Program: $2,500 to $6,000
Startup Capital for the first three months: $60,000 to $90,000
Review Item 7 from Our Franchise Disclosure Document
| Type of Expenditure | Amount | Method of Payment | When Due | To whom Payment is to be Made |
| --- | --- | --- | --- | --- |
| Initial Franchise Fee | $30,000 | Check or wire transfer | Upon signing the franchise agreement | Us |
| Rent, Utilities, and Leasehold Improvements | $5,000 - $25,0000 | Not applicable | Not applicable | Not applicable |
| Market Introduction Program | $2,500 - $6,000 | Check, debit, and/or credit | As incurred or when billed | Vendors and suppliers |
| Furniture, Fixtures, and Equipment | $7,000 - $12,000 | Check, debit, and/or credit | As incurred | Vendors and suppliers |
| Computer Systems | $6,500 - $8,500 | Check, debit, and/or credit | As incurred | Vendors and suppliers |
| Payroll Reserve | $7,500 | Check, ACH | When the Franchised Business Starts | Us |
| Insurance | $10,000 - $18,000 | Check | Upon ordering | Insurance company |
| Signage | $4,000 - $8,500 | Check, debit, and/or credit | Upon ordering | Vendor |
| Office Expenses | $1,000 - $2,500 | Check, debit, and/or credit | As incurred | Vendors |
| Licenses and Permits | $100 - $1,500 | Check | Upon application | Government |
| Dues and Subscriptions | $250 - $1,000 | Check, debit, and/or credit | As incurred | Vendors, trade organizations |
| Professional Fees (lawyer, accountant, financial, etc.) | $1,500 - $7,000 | Check, debit, and/or credit | As incurred or when billed | Professional service firms |
| Travel, lodging and meals for initial training | $2,000 - $4,000 | Cash, debit or credit | As incurred | Airlines, hotels, and restaurants |
| Additional funds (for first 3 – 6 months) | $60,000 - $90,000 | Varies | Varies | Employees, suppliers |
| TOTAL | $136,350 - $221,500 | | | |
For a fuller understanding of the cost to open a new Essential Pros franchise, please consult Item 7 from our most recent Franchise Disclosure Document. This will give you a detailed look of every line item needed to begin operations, as well as provide a range when applicable to give you a sense of where you can save money.
What are the Ongoing Fees?
Essential Pros works hard to keep this business affordable for entrepreneurs who want to own a business in the thriving staffing industry, and our royalty fees reflect that.
The royalty for a new franchise location is 5.85% of your gross sales
Your contribution to the national marketing fund will be .50% of your gross sales.
For a deeper dive on the ongoing costs of owning an Essential Pros franchise, please review our Franchise Disclosure Document, or simply fill out a form on this website and begin a conversation with us.
How Do We Help You Keep Costs Low?
Starting a business on your own may seem like a daunting enterprise – and it would be if you were doing it on your own. One of the many reasons why Essential Pros is such an exciting opportunity is that we've spent the past 14 years perfecting a business model that keeps ongoing costs low so that franchise owners can keep more of the money they earn.
Our back-end support is second-to-none in the staffing industry. We provide a robust team of experts who will handle your payroll, invoicing, accounts receivable, collections, marketing resources, risk management consulting, as well as a ATS/CRM that helps you stay organized and focused on hitting your sales goals. All of this support means that you can begin operations with a minimal staff of three to four people, and get an office space with a lighter footprint and cheaper rent. This ongoing support will make your business easy to run, quick to scale and will give you the ability to serve as the CEO of your company, focusing your energies on forging relationships and winning sales in your community.
"We wanted to make this business as turnkey as possible," says Nicole Powell, Vice President of Essential Pros. "Our industry-leading back-end support keeps costs low on an ongoing basis, and minimizes the stress of an owner so that they can focus their efforts on networking, marketing and generating sales. This is a sales business, and we need our franchise owners doing what they do best – making sales. We'll take care of the rest."
Are you ready to be at the center of your local economy? Invest in an Essential Pros recruitment franchise today
For in-depth details about the Essential Pros recruitment franchise opportunity, download our Free Franchise Opportunity Report. You also can learn more by visiting our research pages.